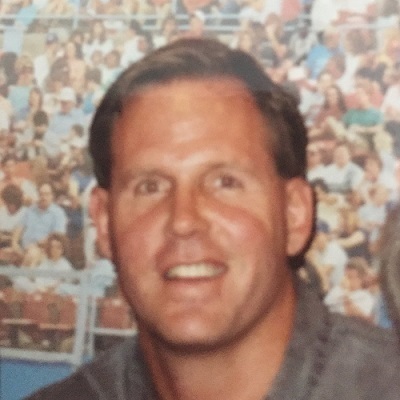 August 13, 2017
Unfortunately, we have to announce that one of our veteran players, Bob Hermann, passed away.

†The CSBL was founded on the principles of competition, equality and fraternity.† Our founders wanted to form an association of like-minded members of men who desired a competitive basketball experience that was grounded in equality for members regardless of skill or age, and steeped with mutual respect and camaraderie.† In our 29 year history we have had many dear members who have personified these core principles, and perhaps none more so than Bob Hermann.† It is with great sadness that we report the passing of Bob after a long and courageous battle with cancer.

† Bob, for those that may not have known, was a standout scholastic basketball player.† After being courted by schools such as Delaware, NYU and the Naval Academy Bob decided to play his collegiate ball at Siena College.† A 1970 graduate, Bob competed on the Menís Varsity Basketball team for three seasons (back in Bobís era freshmen were not allowed to play on varsity).† During this time Bob amassed 733 rebounds and 1258 points; when he graduated he held five school records, including all-time leading scorer.† His accomplishments on the court lead to his enshrinement in the Siena Athletics Hall of Fame in 1978.†

† Clearly Bob had the pedigree and the competitive nature to be a star of our CSBL league, yet as skilled as he was on the court he was even more of a gentlemen, both on and off the court.† He was gracious and generous with his time and offered a kind hello to all the men he competed with, and against Ė whether they be fellow blue chippers, or JV bench warmers.† If you knew Bob, whether that was as a dear friend, a fellow hooper, a teacher or even a tutor, you will no doubt have cherished memories to remember him by.† If you were not fortunate to ever meet Bob I would suggest you ask a more senior CSBL member to share their remembrances of him with you Ė your heart will be richer for knowing, even second-hand, about his spirit for basketball and life!

† At this time the league is not privy to the final arrangements for Bob.† We will try to keep everyone posted, and it would be advised to keep an eye on the paper or online obituary notices.† In the meantime please keep Bobís family, his wife Marcia and his children Craig and Kathy, in your thoughts and prayers.


Robert F. Hermann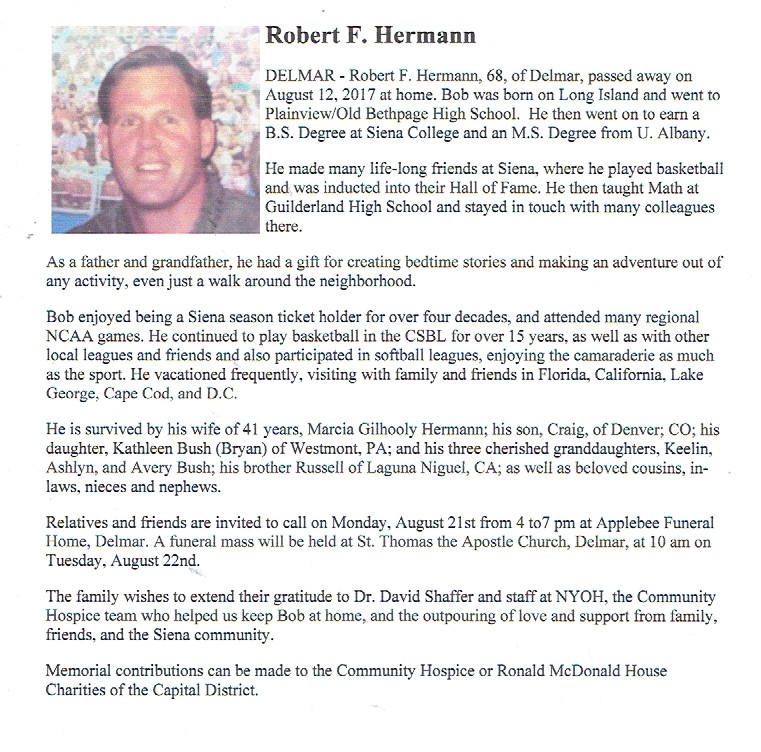 Please visit ApplebeeFuneralHome.com
--------------------------------------------------------------------------------