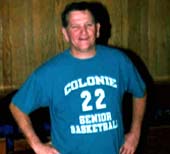 Founders-
George Garlock (left) and Dick Umholtz
The Colonie Senior Basketball was born in the Fall of 1991. Two friends and long-time sports buffs, George Garlock and Dick Umholtz, placed an ad in a local newspaper asking for players 50 years old and over who would be interested in forming a basketball league. They expected not more than 10 or so replies, but when dozens responded, the league was up and running.
The first season began with 4 teams playing a 10 game schedule. Interest was so high that a second round was set up for the Spring of 1992. Applications continued to pour in and two more teams were added.
The first games were played at the Colonie Sports and Fitness Center. The league soon moved to a larger gym at the College of St. Rose, in Albany. College officials, while happy to provide facilities for the "senior" players, were worried about medical emergencies that could occur with an older group. Thus, they required a certified trainer to be present at all games. However, most of the their work was treating strains, pulls and scrapes that occur at all age levels.
After briefly returning to the Colonie Sports and Fitness Center, the league moved to Colonie High School. In the Fall of 1994 a permanent home was found at Colonie's Lisha Kill Middle School.
The league is administered by a Board of Directors. During the season the board meets monthly to insure that league business runs smoothly. The leagues' top executive is that of Commissioner